THINK TWICE
The Official Blog of Dr. Jeremy Levitt
Published in the Orlando Sentinel – August 22, 2017
I love America and greatly disagree with the dangerously false opinions, observations and prognostications that are proliferating about this country and President Donald Trump. America is not descending into a bloody race war, and Trump is not a racist.
Trump is a chaotic megalomaniac with associated prejudices, not a racist. While his impulsive, unpredictable and unproductive behavior often smacks of bigotry, liberals should stop stereotyping and magnifying his behavior through frenzied racialized lenses because they are visionless.
If we are going to have any meaningful discussion on race, we must differentiate between racists, bigots and prejudiced people. These terms and labels are not synonyms and should not be used interchangeably because doing so blurs history, obscures the truth, bloodies discourses and confuses the American public.
We cannot successfully address historical and contemporary forms of racial inequality and its antecedents without fighting fair. Since "Black Lives Matter," so do the labels we place on those who are antithetical to them.
Racists believe in their biological and moral superiority over other racial groups. Like most U.S. presidents, Trump believes that he is superior over everyone, irrespective of race. He is too much of a charlatan to be racist, and too narcissistic, pragmatic and unimaginative to buy into fantastical white supremacist ideology.
Bigots are intolerant and odious toward those holding different opinions, particularly members of different racial, ethnic, religious and gendered groups. Trump is intolerant and loathsome toward nearly everyone equally, and too strong of a megalomaniac to be controlled by racist or bigoted ideology and politics. Exit Steve Bannon!
Prejudice expresses itself as preconceived, irrational and often hostile opinions and stereotypes based on inferior or insufficient knowledge. Trump's alleged moral-equivalency uttering about Charlottesville, Va., his tweets objecting to the removal of Confederate statues, and his comments about Mexicans and other minorities are cases in point. Like many Americans, Trump can be intellectually inflexible, willfully ignorant, insecure and hostile, demonstrating his prejudice on a wide array of issues foremost among them — race politics.
For example, why was President Trump willing and able to condemn "radical Islamic extremists" responsible for the horrid international terrorist attacks in Barcelona, Spain, but reluctant to condemn white supremacist extremists responsible for ISIS-style domestic terrorism in Charlottesville? In a recent tweet, Trump openly endorsed torture and extra-judicial killings to deter terrorism in Spain. Would he also support using torture and summary executions to combat violent white-extremist terrorists in the U.S.? These are troubling paradoxes.
Perhaps the president's offering an intelligent plan for racial unity would bring about needed healing in a nation struggling with a legacy of racial, ethnic and religious division. According to recent FBI hate crimes statistics, blacks and Jewish people are the greatest victims of racial and religious violence, respectively. Hate crimes against Muslims are skyrocketing. More than 60 percent of reported victims of hate crimes were targeted because of their race and about 50 percent of all hate crimes are committed by whites.
The FBI and Department of Homeland Security determined that white supremacist extremists are responsible for more deadly attacks than any other domestic extremist group, with racial minorities being primary victims. Trump needs to reflect on these realities and address them.
Trump should forthrightly seek to reconcile his zealous advocacy for the deaths of black teenagers in the Central Park Five scandal who were later exonerated; his late and self-promoting tweets after the 2015 white supremacist murders of nine worshippers at Emanuel African Methodist Episcopal Church in Charleston, S.C.; and his outward discomfort in condemning white supremacist groups and violence in Charlottesville last week. Trump's open support for Confederate statues and bumbling defense of violent white extremist history complicates matters further.
For better or worse, Trump's opinions, values and virtues are shared by millions of Americans, not a fringe element. White supremacist speech is protected under the First Amendment. White supremacists can lawfully celebrate a violent losing and treasonous tradition as long as they don't employ fighting words, commit crimes involving speech or make threats.
While white supremacist extremists spew hate, we must advance new institutions and enterprises comprised of white anti-racist activists. We need White Millennials with an Attitude — WMWA — focused on tracking, monitoring and combating violent white extremism. The NAACP and Urban League must evolve.
We need newer and braver civil-rights organizations determined to lawfully disrupt, dismantle and destroy white supremacist extremist groups intent on violently upending our Constitution and the laws, values, virtues and principles of these United States.
Jeremy Levitt is the distinguished professor of international law at the Florida A&M University College of Law
 Twitter: @drjeremylevitt
ORLANDO SENTINEL – November 16, 2016
African-Americans should give Donald Trump a chance
I'm an ardent critic of Donald J. Trump, but I realize that he will be the 45th president of the United States. He won; get over it. If you don't like him, do something about it: Join the anti-Trump protests around the country, help establish a "third way," or move to Canada. I've lived in Canada, and if "Jacques Frost" doesn't pinch you, Canada's ridiculously high income and sales taxes — together with a cruel currency-exchange rate and nice-nasty culture — may have you running south for the wall-free border.
Take a deep breath. I encourage every African-American to register as an Independent or join the Republican Party for the next four years. What do we have to lose? Our dignity? The Democrats arguably stripped that away some time ago. What has the Democratic National Committee done to earn our blind undivided loyalty? For decades, Democrats have governed nearly every inner-city community in the country. What do we have to show for it but empty hope, joblessness, poverty, decaying schools, poor infrastructure, environmental degradation and high crime? You can't even buy a fresh tomato in the hood!
African-Americans must demand a measurable return for our loyalty. We are the most powerful minority-voting bloc. We need to become strategic opportunists. The Democratic Party must be taught to earn our votes, and the Republican Party required to deliver on President-elect Trump's "inner-city" and inclusiveness plan — among others. Trump should appoint an "Urban Renewal and Development" czar with a dedicated staff to lead an interdepartmental task force of senior officials from across federal agencies, including the departments of Health and Human Services, Education, Housing and Urban development, Labor, Energy, Justice, Homeland Security, Transportation and Commerce. The primary purpose of the task force should be to formulate and implement urban-renewal and development pilot programs in New York, Los Angeles, Chicago, Houston and Philadelphia. The program should aim to substantially increase vocational and technical educational opportunities, jobs training, jobs, affordable health care, small businesses, infrastructure development, Christian-based charter schools, and safety and security through community policing.
The president-elect extended an olive branch to all Americans, especially African-Americans. In his Nov. 8 victory speech, he asked his detractors for guidance and help to unify our great country. Trump pledged to represent all Americans, even those who decry him. In an apparent signal to African-Americans and other minorities, Trump promised to represent the downtrodden and help them maximize their full potential. He claimed that the "forgotten men and women of our country will be forgotten no longer." He firmly stated that one of his top priorities was to "fix" and rebuild our inner cities. Time is ultimately the best teller of stories, but I don't remember a time when any other leader — Democrat nor Republican — made a similar promise. Democrats have governed America's predominantly black urban centers for the past 60 years. Have things improved? Are the lives and well-being of urban blacks improving?
The Bible states, "There is no authority except from God, and the authorities that exist are appointed by God" (Romans 13:1). Many believe that President Barack Obama's two election victories were God-ordained and that President-elect Trump's victory a work of Satan. Unless one argues that Trump's improbable ascendancy is akin to the rise of the "man of sin," a skillful deceiver empowered by Satan to pretend to be God in the last days (2 Thessalonians 2:1-12), maybe he deserves a chance.
I am not suggesting that we overlook the deplorable things that Trump has said about Latinos, blacks, women, prisoners of war, and disabled Americans. Don't ignore his apparent embrace of civic and white nationalists. Don't discount the chilling accusation that he may be Russia's "Manchurian Candidate."
However, I am suggesting that we must be the change that we desire, which is not possible unless we rise from our couches of indignation, run from Clintonian plantations and break our addiction from the Democratic Party's crack pipe. For once let's try single-malt scotch atop the elephant over crack on a jackass.
African-Americans and others should answer President-elect Trump's call to action, and if he does not respond or deliver on his promises, bloc vote and run the Republicans out of power in 2020. Until then, we should register as Independents or Republicans, accept his olive branch and apply for non-career presidential appointments in the Trump administration. Let's immediately start writing letters to Trump and our congressional representatives, demanding action on his African-American pledges.
Jeremy I. Levitt, J.D., Ph.D. is the distinguished professor of international law at Florida A&M University. @drjeremylevitt Learn more about Dr. Levitt at drjeremylevitt.com.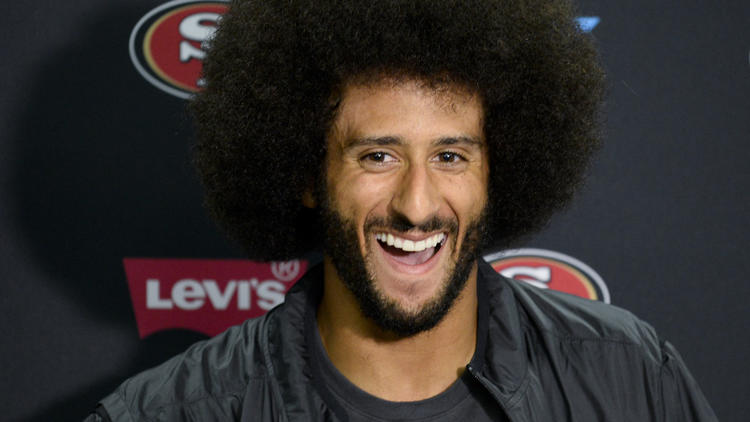 This article originally appeared at The Orlando Sentinel 
I prefer standing and placing my right hand on my heart during the national anthem, but I support Colin Kaepernick's decision not to do so.
To argue otherwise would be to deny one of our most sacred democratic and constitutional principles: freedom of expression. It is a fundamental right.
Kaepernick, the 28-year-old San Francisco 49ers quarterback, is highly intelligent. He also is courageous, deeply patriotic and charitable. Kaepernick regularly engages in significant work for disadvantaged kids. He is passionate about helping medically challenged children with heart disease. How charitable are his critics?
Kaepernick has drawn national attention because he decided not to stand during the national anthem before football games. Is he breaking any rules? The National Football League does not require players to stand during the national anthem; nor can it, and nothing in his contract with the 49ers can compel him to do so.
So what's the hullabaloo about? Standing for the anthem is a sociocultural norm like racism that Americans can freely choose to associate or not. So why is Kaepernick being treated like a rebellious slave in need of plantation-style discipline?
At nearly every sporting event, there are a wide range of behaviors on display during the national anthem. Fans sit, talk, eat, belch, spit, wear hats, and place their hands in their pockets during the anthem. Kaepernick's "rebellion," as such, is good for America. It forces us to discuss uncomfortable American-made problems such as racism, bigotry and xenophobia. Those evils come wrapped in a malaise of inequality, injustice and apathetic denial.
Kaepernick is not anti-American. He is a patriotic anti-inequality, anti-racist and anti-injustice human-rights activist. Unlike many Americans, he actually believes in William Tyler Page's "The American's Creed," which was adopted by the U.S. House of Representatives on April 13, 1918.
The American's Creed embraces a "government of the people, by the people, for the people" as consented to by the people and based on "freedom, equality, justice, and humanity." While many Americans lack empathy toward the poor, downtrodden and disenfranchised, Kaepernick feels deeply compelled to advocate for them. What if more NFL players shared his moral fabric?
In the wake of the tragic Dallas massacre, whose response to police brutality and structural racism would you want disgruntled African-American men and youth to follow: Kaepernick's or Micah Xavier's, the gunman?
Kaepernick was born to a 19-year-old unwed white woman and a seemingly uninterested African-American father. When he was five weeks old, he was adopted by two loving parents, Rick and Theresa Kaepernick, who happened to be white,
I wonder whether Kaepernick's mulatto heritage, wealth, good looks, status and intimate understanding of white culture are what really bother the self-professed protectors of "The Star-Spangled Banner"?
I wonder whether Kaepernick's close proximity to whiteness makes some feel betrayed by his ardent pro-black stance for nonviolence, freedom, equality, justice and humanity?
I wonder if he were two shades darker and raised by a single black mother, what might his critics say? The intoxicatingly toxic debates about President Barack Obama's racial heritage and patriotism echo here.
Kaepernick continues the black sports tradition of nonviolent human-rights activism, which represents the sentiments of millions of Americans.
The hateful reactions to his peaceful civil disobedience are the best evidence that we must continue the long walk to freedom. Need I remind you that former NBA sensation Mahmoud Abdul-Rauf was suspended in 1996 for refusing to stand during "The Star-Spangled Banner"? Or what about the expulsions of Tommie Smith and John Carlos after giving the black power salute while receiving medals in the 1968 Olympics in Mexico City?
I wonder: Would Kaepernick's critics be happier if he stood quietly and gave the black-power salute, as Smith and Carlos did, during the national anthem?
History dictates that it is easier to vilify human-rights messengers than constructively engage their messages. No one has accused Kaepernick of making erroneous or false claims.
At its core, Kaepernick's message is one of racial unity, peace, justice and equality for all. If we demonize nonviolent and peaceful messengers because we disagree with them, what value does The American's Creed hold?
Jeremy I. Levitt is the distinguished professor of international law at Florida A&M University College of Law and author of "Black Women and International Law" (Cambridge University Press, 2015).